ALLVAT is proud to contribute to the conservation of sea turtles and has entered the Adopt-A-nest program. The Sea Turtle Conservation Bonaire offers companies and individuals a way to protect Bonaire's most iconic wildlife.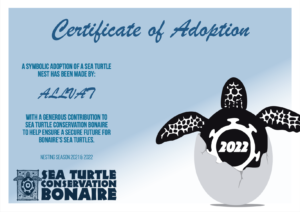 Sea turtles are Bonaire's most charismatic species. by adopting a nest ALLVAT could contribute to protecting nests, rescuing newborn sea turtles and the relocation of nests in danger of drowning.
For more information regarding the sea turtle conservation or to contribute through donating for the preservation of the sea turtles on Bonaire you can visit their website.